Leveling and Vertical Location
North American English Instantiation
ISBN 978-0-9961230-0-6
About 700 pages, plus Glossary, etc. in iBooks format (about 900 pages in ePub3 format)
Landscape, Portrait and Scrolling (iPhone) Modes in iBooks format. Fixed Layout Landscape mode in ePub3 format.
See the book's page in the iBooks Store.
See the book's page in the Wollindina Media Store.
Volume 3 of Surveying: Foundation of Geomatics by John D. Bossler and N.W.J. Hazelton.
Wollindina Media has released this textbook as an eBook in both the iBooks and generic Fixed layout ePub3 format. It is available in these two slightly different formats, to allow it to be run on different platforms. The contents of both versions are almost identical, so which version you choose depends on the platforms you choose to run it on.
About the Book

This new textbook series for surveying and geomatics programs builds on the venerable Surveying text by Harry Bouchard, Frank Moffitt and John Bossler. It is a complete revision and restructuring of that book to take advantage of the latest textbook technology, and the latest advances in surveying and geomatics. Presented as an iBooks Textbook, also known as Multi-Touch, it includes video, animations, slideshows, interactive illustrations, full color text and figures (as appropriate), and hyperlinked text. Audio of pronunciations of certain terms has also been included. This volume, Leveling and Vertical Location, is a stand-alone textbook on its subject, but also fits into the series to provide a comprehensive overview of the discipline.

It is also available as a general Fixed Layout ePub3 eBook for non-Apple platforms, with the same content. This version is about 900 pages because of having to format the book a little differently, but it includes the same materials: text, glossary, figures, tables, slideshows, animations and video. We have tested this version of the book on a wide range of ePub readers on every operating system we could get, and a list of compatible ePub3 readers is available here.
Primarily for students in surveying, geomatics and engineering, at 2-year and 4-year programs, it is also a suitable reference for educators, working professionals, and anyone who needs to understand vertical location. Designed to be easily read and understood, it has a strong practical orientation, while also including advanced topics. Videos show how to do field work; text and illustrations work through field work in detail; field note recording is covered, step by step, in slideshows that the reader paces. Readers can also add highlights, notes and bookmarks to the text, which will propagate across all their devices where their book is held.
While covering leading-edge topics (e.g., LiDAR, UAVs, Locata, digital photogrammetry, IfSAR), the historical foundation of current methods is included, together with the rationale for certain methodologies.
The book can be viewed in the Apple iBooks application on Mac computers, iPads and iPhones, the last with iOS 8.4. We have tested the book on the iPad, iPad Mini, and on the iPhone 5, as well as Mac computers running iBooks. By running the book on these devices, the full accessibility capabilities of the device are available. Text can be read aloud, areas of the screen can be enlarged, and the colors have been optimized for color-blind readers.
Purchase entitles the buyer to unlimited free updates and use across all their compatible devices. Buy once: it lasts forever, through every update, big or small!
Book Design
There are many ways to slice a surveying curriculum. In this book, we have covered leveling from its most basic through to precise leveling. But we have also covered the very many ways in which the vertical location of a point can be achieved. This includes GNSS, photogrammetry, LiDAR and SAR, as well as older technologies. In one book there is not only material for the foundation surveying courses, but also material on more advanced material that builds on and connects with the foundations. So Least Squares Adjustment of leveling is covered, together with quality measures for many different technologies, the importance of rigorous checking, error propagation in leveling, and a wide range of other relevant topics.
Here are some sample pages from the book. These are from the iBooks version.
Several diagrams are animated, so that the student can see how the item actually works. Bubble tubes, split-bubble reading systems, electronic level sensors, parallel-plate micrometers and micrometer in the Zeiss Koni 007 level are presented as animations, together with the operation of a vernier and the availability of satellites in the GPS constellation.
Detailed illustrations are included in the text.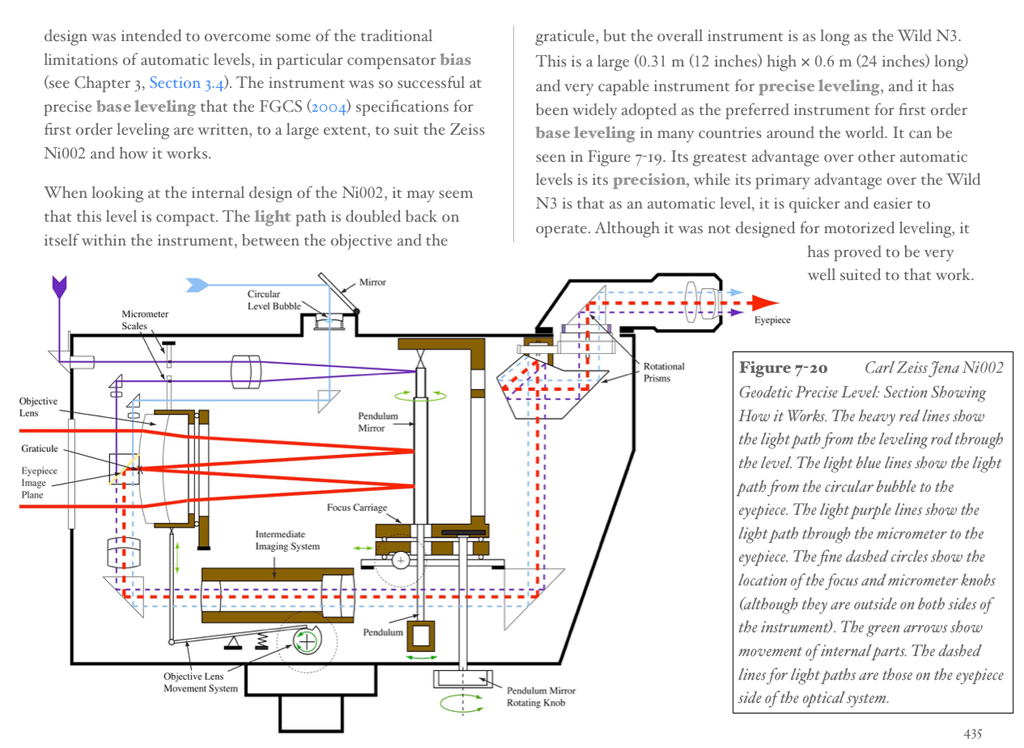 The introductory video can be seen on YouTube, at this location.
How to Buy This Textbook
The first step is to decide which platforms you will be using.
If you will only need to use the book on Apple platforms (Mac, iBook, iPhone), choose the iBooks version. To buy it, open the iBooks app on your platform, go to the iBooks Store, search for "Bossler Hazelton" and you should get the book. Purchase it in the normal manner. On the iBooks Store, it costs US $9.99, or equivalent in other currencies. Please note that the iBooks Store does not sell all over the world, so you may not have access to the Store for every country. Once you have purchased the book, your AppleID will allow you to return to the iBooks Store and download an updated versions of the book.
If you plan to use the book on non-Apple platforms, i.e., Android, Windows, Linux, Chrome, or you plan to use it on both Apple and non-Apple platforms, you should get the ePub3 version. However, you will need a reader that can handle large ePub3 Fixed Layout eBooks on your chosen platforms. On Apple platforms, iBooks does a very good job, as does Adobe Digital Editions. Adobe Digital Editions works well on other platforms, but check our listing of readers that we have tested here. All the tested readers were free, which is a good price!
Download your reader from its source site, then go to the Wollindina Media Store and purchase the ePub3 version of the eBook. You can download it as soon as the purchase is complete and copy it to your other platforms. Please note that it is for your personal use only. Purchase includes creating an account at the Store, which allows you return and download replacement copies, as well as any updated versions that we release over time (note that the book is currently at version 1.0.5, so we will make updates available).
The ePub3 version of the book sells for US $10.00 at the Wollindina Media Store, or equivalent in other currencies. Any currency that can be converted and accepted by PayPal (who handle all the payment side) works for purchase.